MUSIC PREVIEW: Something for everyone at Boonstock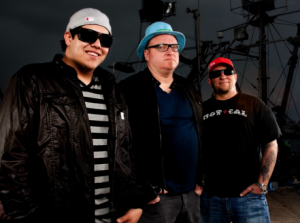 The region's musical focus turns to the North this weekend with Boonstock occurring just outside Gibbons for four amazing days of sound and fun in what's looking to be the best weather of the year so far. Like many local festivals, they may not have the massive headliners that you're used to seeing if you compare it to a major festival in the United States, but they more than make up for it in depth.
After Thursday's dance music kickoff party, the rock commences on Friday night: featuring Sebastian Bach, who first gained fame as the frontman of Skid Row, and has put out five of his own solo albums since 1999, as well as local powerpunchers Kickupafuss and SIIINES. Saturday night features veteran Massachusetts metal act Godsmack, as well as iconic Canadian rockers Headstones, whose singles "When Something Stands For Nothing" and "Tweeter And the Monkey Man" most music fans of the early 1990's will recognize. Then we have renowned bad boy Slash, who needs no other introduction (name a guitarist who hasn't wanted to pose for a photo with the hair and hat over the eyes and a bottle of Jack Daniels in hand). Other performers for the day include Hamilton rockers Monster Truck, regional favorites Shelbi and Tupelo Honey, as well as Digital Lab. Then Sunday closes with another deep lineup, featuring Sublime with Rome (pictured), the awkward name born out of a lawsuit with the estate of Sublime's frontman Bradley Nowell. Rounding out Boonstock's final day are Celtic punk act Dropkick Murphys, which is always a fan favorite, as are Daniel Wesley and Jonas and the Massive Attraction.
And if all that rock wasn't enough to entice you, maybe you'd be much more interested in the EDM side of the festival – that's "electronic dance music" so we're not confused with EDMonton – which features a plethora of famed DJs: Including Eric Prydz, DJ BL3ND, Torro Torro, Benny Benassi, and Jo Thrillz, just to name a few.
So there is almost something for everyone at Boonstock. Tickets are still available, $279 for a full-weekend pass, $119 for single days, on sale at the gate. Here's a map.
Friday
Tanner Gordon and the Unfortunates – This local grunge band's frontman started off as a folk singer when he was 14 years old. He's got a lot more edge now. Trust us. With Intertwine and Nolan Bossert. Brixx Bar & Grill, 9 pm, $5 at the door.
AZ – This Grammy-nominated rapper is perhaps best known for being the rhyme partner of Nas, but the Brooklyn musician has eight albums to his own credit, including the track "Sugar Hill", his best-charting single. Cormega, DJ Doowop and The Come Up Gang are also on the bill. Starlite Room, 9 pm, $35.
Saturday
Honeymoon Suite – Have you ever noticed how Canadian rock bands never really go away, they just retain their frontman, change other members, and continue to tour into eternity? Here's another example, the band most famous for radio hits "New Girl Now" and "Feel It Again" in the mid-1980's led by Johnnie Dee. While he remains the only true original member, the peak of the band's success included lead guitarist Derry Grehan and Dave Betts on drums, who still remain with the group. There's a handful of tickets left, $36.70 plus service charges. Century Casino, 7 pm.
Vicky Berg – This local artist/musician is hosting a release party for her CD "The Light Between the Stars." While you may not have heard her name much in the past, the longtime member of the Colleen Brown Band is an accomplished pianist and guitarist, masterfully blending jazz, folk, rock and blues into her signature sound. Trevor Tchir opens. The Artery, 7:30, $10 advance, $12 at the door.