MUSIC PREVIEW: Chains that bind us
Posted on July 4, 2013 By Michael Senchuk Entertainment, Music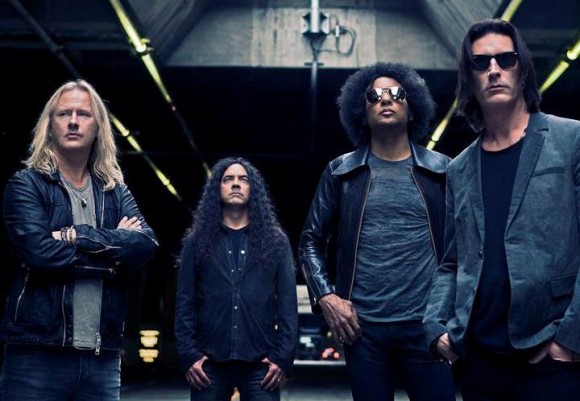 The weekend begins with a bang Thursday, with a pair of standout acts slamming into the city. First, at Rexall Place, the legendary Alice In Chains. Born in the thick sludge of the Seattle grunge scene, the band rose to international fame in the early 1990s with songs like "Would?", "Them Bones", "Rooster", and "Down In A Hole" (all of which are from their second album "Dirt"). They continued until 2002, when frontman Layne Staley tragically passed away. Co-founder Jerry Cantrell took over vocal duties starting in 2005, and the band has released two albums since, including this year's "The Devil Put Dinosaurs Here."
Meanwhile, downtown at The Artery you can see one of Canada's best indie rock bands – The Strumbellas. This Toronto act has been traveling back and forth to the West coast to record a new album, so you can expect significant amounts of new material at the gig. The six-piece is known for their highly energetic shows, and a sound that takes the best parts of alternative, rock, folk, and even country music, and throws it all high in the air to see where it will land.
Friday
Big Country – This band is touring to support their first studio album in 14 years, its first with new frontman Mike Peters (formerly of The Alarm), after original frontman Stuart Adamson took his own life in 2001. It's hard to believe it's been 30 years since the band's seminal album "The Crossing." Starlite Room. 8 pm. Advance tickets $24.50.
Freshman Years – This local pop-punk act is breaking up, but not before performing a farewell show – in which they've promised their longest set ever. Wunderbar, with Old Wives and Good Friday Brawl. 9 pm.
The Old World Record + Waskasoo – It's hard not to respect a band that includes an upright bass, banjo and two members that can and will play the mandolin. And that's just the opening act, "valley stomp folk" act Waskasoo, from the Red Deer region. The headliners are a local collective of songwriters and multi-instrumentalists, performing what they call "basement folk". And yes, they'll be bringing the banjo, too. Haven Social Club, 8 pm, $7 advance, $10 at the door.
Boonstock Official After Party – After parties are usually held the same night, but who's going to complain if the party keeps going another weekend? Vancouver alt-rock act Veer Union headlines this gig, while local bands Dolly Rotten and Heaviside open. Pawn Shop, 8 pm, $10 advance.
Saturday
Artery Anniversary Party – This funky little has assembled an incredible afternoon bill to Headlining this incredible bill is The Secretaries, a local pop-rock act that features Colleen Brown on bass and vocals, as well as Amy van Keeken. Other bands on the bill include Bombchan, Dead Read Pine, Collective West, Banjpipe, and Darryl Matthews. 1 pm. $8 advance
Buckcherry – Founded by vocalist Josh Todd and lead guitarist Keith Nelson, the only two original members, this Los Angeles act released an eponymous album in 1999, dissolved three years later, then reunited in 2005, and have been releasing new material occasionally since. Of course their most popular songs are from the early albums, with such gems as "Lit Up" and "Crazy Bitch." With Age of Days and Girl On Fire. Union Hall. 7 pm. $25 advance.
Labradoodle – This psych-sludge trio formed in 2011, and are releasing their debut full-length this weekend at Wunderbar. With Two Bears North. 9 pm