STREET FEST: Anyone can learn to juggle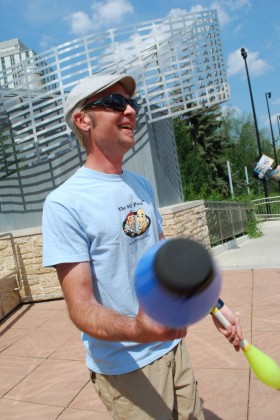 One ball is easy. Two balls are no problem to handle. Three balls is a trick.
Of course we're talking about juggling. An Edmonton high school phys-ed teacher used fail any student who didn't learn to juggle three balls – so now there are likely hundreds of locals who have mastered this basic street performers' skill.
"Good!" says street performer Phil LeConte of The Silly People troupe, who claims that ANYONE can learn to juggle. "If you can catch and throw a ball, I can teach you to juggle in five minutes," he says. Of course, he adds, "It takes a lifetime to perfect."
One of dozens of variety acts working the Edmonton International Street Performers Festival in Churchill Square through July 14, LeConte and his partner Colin Franks lead daily workshops on juggling, yo-yo-ing and plate spinning. A surprising number of people show for these "Be Your Own Busker" classes (there are also workshops for breakdancing and stiltwalking), lots of kids, tourists, moms and dads and grandparents. There was almost a packed house in the tent on Monday afternoon.
Everybody wants to learn to juggle. The question is why?
"It's a great skill, but a useless skill," LeConte admits. He points out the great juggling irony: while the vast majority of street performers can at least keep three objects in the air, very few people will pay to see it. The most LeConte can do is five objects, and he says that took a solid month to learn, four hours a day. It gets "exponentially" harder from there, he says. Four objects is harder than five, strangely enough, seven is harder still, rare is the juggler who can sustain nine and the world record is 11. So big deal, you say. Because anyone can do it, the Silly People don't even juggle in their act at all – and oh, yeah, if you want to be a street performer, you probably should think about having an "act."
Variety performance art is a noble calling because its practitioners do it for love beyond money. Not only is it very difficult, but you'll find few superstar jugglers; the highest paid generally work for Cirque du Soleil. There is one circus college in Canada, in Montreal and it's run by – you guessed it – Cirque du Soleil. So while a lot of people want to learn to juggle for fun, very few will consider making a living at it or even imagine that you can make a living at it. The Silly People say they are the only full time variety performers in the Kitchener-Waterloo area; surely there is more than one in Edmonton. Thanks again, Mr. Gym Teacher.
LeConte, 39, has devoted half of his life to variety performance. The Silly People work all year round, thanks to the unofficial busking exchange program with Australia, where people there wonder why there are so many Canadian street performers in the way we wonder why they are so many Aussies at our festivals. Now we know. He knows the limitations of his trade – but also its great allure, its freedom.
"Comics want sitcoms, rock musicians want massive success, but there's not really that kind of goal in variety," he says. "Even in Vegas, you have to be at the top of your game and do the exact 20 minute act day in and day out. Most of us choose this because you're your own boss, you can stay up late, you can sleep in, you sort of lead the rock star life, you travel, you live out of a suitcase, but you get to meet great people and be creative on your own terms."
To prove our original thesis, that any doofus can learn to juggle, I get LeConte to give me a quick lesson.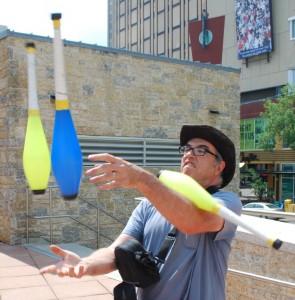 "Start with one ball," he says. "Throw it up in the air, from hand to hand, not sideways. "The next step is to put a ball in each hand: throw, throw, catch, catch. Keep doing that. With two balls the pattern stops there. Throw, throw, catch, catch. You need a third ball to keep it going. So the last step, whichever hand has two, start with that hand. That's all it is. The rest is just practice."
OK: throw, throw, catch, catch, throw, throw, catch, throw, catch, throw, throw, drop, throw, drop, catch, throw, drop – hey, almost there! Just need a lifetime to perfect it.
Be Your Own Busker classes are free every day from 12:30-5:30 p.m. in the tent at the North end of Churchill Square. It is not necessary to bring your own balls.