FESTIVAL GUY: Interstellar Rodeo a triumph of Edmontonian proportions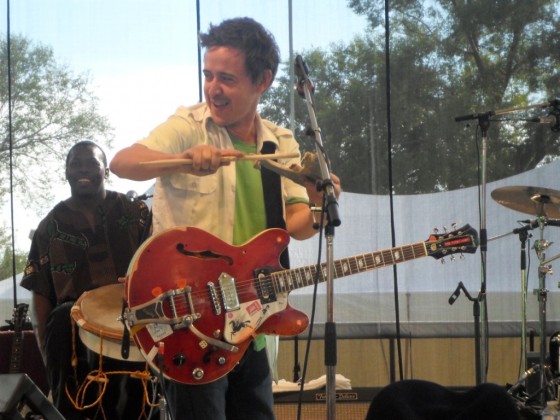 "Eclectic" may be too generic a word to describe the mish-mash of musical genres thrown together for this year's Interstellar Rodeo – everything from Americana from Steve Earle to the electronic art rock from Edmonton's own Shout Out Out Out Out.
There seemed little cohesion between the different artists at the weekend's cosmic soundwave soup in Hawrelak Park – apart from affiliation with promoters at Six Shooter Records, which were plugged continually during band's sets. There was no shortage of fans willing to enlist for the adventure, however, and despite the rotten Edmonton weather by which many local festivals live and die, this Rodeo was a sell-out.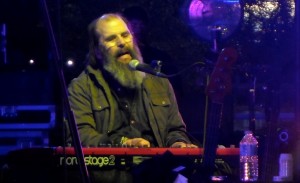 It was cold and wet by the time festival closer Steve Earle took the stage on Sunday night. His strength as a storyteller is where his talent shines, although his backing band The Dukes, featuring Chris Masterson on guitars and Eleanor Whitmore on violin, made his gritty commentaries sound sublime. Earle spent the evening stealing pages from Woody Guthrie's playbook, weaving tales like the finest folkie, tales of everyday (North) Americans struggling to get by amidst an unforgiving economic new world order. In "21st Century Blues," Earle isn't naive enough to think it's only real estate agents who are hurting these days, and sensible enough to know Americana is also good time music. He sang "Guitar Town" like he had the whole audience riding shotgun while he thundered down the highway on the way to his next gig.
Earle had to follow Serena Ryder (below) – who grabbed all attendees by the gonads by opening an a cappella rendition of "Melancholy Blue," milking out every last drop of pathos out of the song with her powerful vocal range and Shirley Bassey-inspired vibrato. Someone give this woman a James Bond song to record. Please.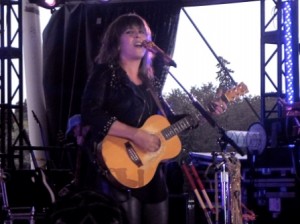 Ryder quickly segued into a set of mainstream catalogue tunes, mostly culled from her 2012 album "Harmony," including her best takes on the whole lost love theme ("What I Wouldn't Do", "Fall"), the stresses of modern life ("Stompa") and the need for a little fun, closing with "Circle Of The Sun," complete with choreographed hand signs, arm waving and much ado about something. The song's infectious rhythm was a perfect end to the set, even though most of the audience had long forgotten what Ryder wanted them to do with their hands.
The sun seemed destined to make an appearance at one point over the weekend, but not before Kurt Vile took the stage on Saturday afternoon in a dreary haze. What began with intelligent and engaging riff heavy tune-age devolved quickly into meandering noise rock, finally drawing to a thankful close after a handful of narcolepsy inducing, vocally mumbled acoustic pieces.  Maybe the weather had beaten Mr. Vile into submission, too.
Portland Oregon's M. Ward seemed to re-engage the crowd as the the sun came out on Saturday. The diminutive rocker – imagine a good looking Roy Orbison minus the Captain Kangaroo haircut – shifted deftly between rockabilly and uptempo '50s- and '60s-inspired Americana based blues and roots rock for his entire set. Copping Buddy Holly's style and keen sense of melody, Ward made the wise move of paying tribute to his hero in his cover of "Rave On." While Ward seemed a bit aloof even with the cool sunglasses, he was successful enough in his delivery to win an encore after an intense acoustic version of "Never Had Nobody Like You."
Danny Michel (top picture) was put in fine position to shoot the moon with his backing band the Garifuna Collective. The band had a Paul Simon "Graceland" thing going, and was given an unequivocally buoyant response. It's taken 27 years for someone to replicate Simon's sound from that album, and it was a treat to hear it at Hawrelak Park.
Sarah Harmer had the unenviable task of following Michel and Garifuna's show-stopping set, but managed a bang-up job with her moody brand of ethereal alt country torch songs, hitting a Nashville groove with her band as keyboardist Chris Brown added deft touches on his Hammond B3. At one point, she pulled out a song about playing hockey on the St. Lawrence River. Only a Canadian girl could have come up with this. Harmer also managed to inject some commentary about oil company excesses and water rights, but was annoyingly vague about the threat to our collective well being. Big oil destroying the environment, or another season of subpar Oilers hockey? Your guess is as good as mine.
Edmonton's Shout Out Out Out Out took the stage following Harmer's harmless set of pixie rock crooning, taking festival goers on a late evening hairpin turn around yet another deviation of varied trance/dance/rock stylings. Oddly, there were number of oldsters on the floor for this unabashedly youthful act; the more adventurous amongst them even pogo'ed – although with much less caloric output – alongside the throngs of their hipster 20-something brethren. Playing a number of songs from their latest album "Spanish Moss and Total Loss," with lyrics relating to themes of grief, loss and European horticulture – they played a block rocking set with an impressive stadium sound. Does Jean Michel Jarre know about these guys, and, if so, why hasn't he made them his backup band yet?
Who would have thought so many musical genres could be thrown together like a Jackson Pollock painting and come out sounding as good as it did? This festival was triumph of Edmontonian proportions, despite the wonky weather, which, let's face it, is just par for our course.