MUSIC PREVIEW: Kaleido festival amps up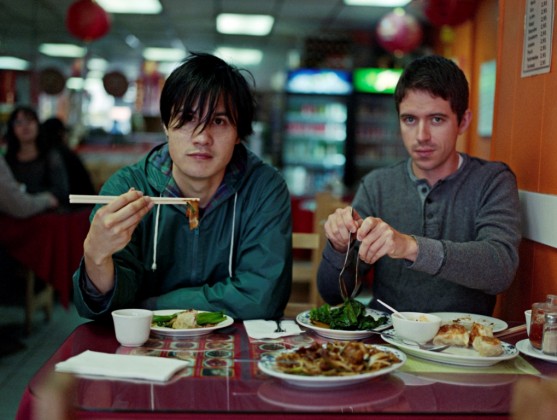 From humble community event to major city festival, the Kaleido Family Arts Festival takes over the city this weekend along Alberta (118) Avenue – and once again they've amped up the live music with a heady mix of touring and local performers that's sure to please almost every music lover.
The Dodos are the headliners on the Central Stage Friday night. Having just released their newest album "Carrier" in late August, the indie-rock duo out of San Francisco likes to experiment with a variety of different sounds. Not only are they likely to have a vibraphone with them, but drummer Logan Kroeber doesn't use a bass drum, and usually has a tambourine taped to his shoe. They've been on a bevy of late night talk shows, also appearing at the acclaimed South By Southwest festival.
Saturday notables include Regina's Rah Rah, an indie-pop outfit whose live show is a frenzied whirlwind of sound and delight, local bluesy-soul charmer Nuela Charles, and hip-hop star Shad. Sunday finishes off with local talents Alex Vissia, Braden Gates, and Jenie Thai and Democrafunk.
Check the website for set times – there are almost 300 different acts, events, activities and art displays to choose from. And don't be afraid to head down early or stick around after. You're sure to see another band you may just fall in love with. Admission to all events is "pay what you can."
Friday
Harpdog Brown – This award-winning former Edmonton blues talent, who eats, drinks and lives the blues, has been plying his trade for over 30 years – and it shows. He performs at Expressionz Café along with Graham Guest. 6 pm, $15.75 advance.
Ben Sures – Another local talent, this folk singer-songwriter is hosting a release party out in Sherwood Park. It's a blues album. Sensing a theme? Festival Place, $20, 7:30 pm. Read interview here.
ILLSCARLET – This Ontario-based act is from the rock-meets-reggae genre that really started with Sublime back in the early 1990's. Illscarlet has four albums to their credit, their most recent being 2009's "1UP!" Their most notable hits come from their middle albums, and include "Who's Got It?" and "Paradise Burning." Pawn Shop, $20 advance, 8 pm
Concealer – If you're looking for something a little … OK, completely different, how about this self-proclaimed "heavy dance-pop gothic psychedelia" act that includes a former DJ on keyboards and an alt-country bassist? They'll be performing at Queen Alexandra Hall on this night, along with Goldtop (a duo comprised of Alice Kos and Idyl Tea's Everett LaRoi), and beloved indie-popster Sarah Wheeler, who's done work with Mark Davis (Old Reliable), Mike McDonald, and The Be Good Tanyas. 8 pm, $15 advance.
Pat LePoidevin – This New Brunswick native actually began his musical career on the bagpipes, zigged left and is now a folk-rocker of some repute in the Eastern reaches of the nation. He is set to release his debut full-length in early 2014. Local songstress extraordinaire Alex Vissia opens. The Artery, 8 pm, $8 advance, $10 at the door.
Blackberry Wood – And now for something else completely different, check out this alt-country meets vaudeville act from Vancouver, along with opening act Lindsay-May. Brittany's Lounge, 8 pm, $15.
Saturday
The Bros. Landreth – After surviving a recording session in the dread of prairie winter that required defrosting their van's window with a borrowed heat gun, this Winnipeg alt-country act with a significant folk leaning decided it would be better to tour in the late summer. Good call. They've got a pair of shows Saturday to support their new album "Let It Lie" – 4 pm at the Black Dog Freehouse (no cover), and 8 pm at The Artery, $8 advance, $10 at the door.
Sunday
BRAIDS – This Montreal act still owed us a show from last fall, when they skipped Edmonton to perform at the Polaris Prize gala after being named to their revered short list. They're finally making up for it, with a gig to support their recent album "Flourish//Perish," which is a little more techno-sounding than their debut album, and with one less band member. Still, their fresh, experimental sound, and the buzz from being a finalist in the Polaris competition, should result in a very solid crowd. Jung People and Mark Webber open. Pawn Shop, 8 pm, $10 advance
Alex Vissia and the Command Sisters – It's a busy weekend for Miss Vissia, as she's also co-headlining this gig at the Spruce Grove Alliance Church with another local act that's been getting a lot of attention recently, both here and in Nashville, the country-folk Command Sisters (who are from Spruce Grove). 6 pm, $10 advance.
Jay Sparrow – This local musician was born in Ontario, but we won't hold that against him – because he grew up on the road with his musical family, and of course couldn't help but end up in the same line of work. From his first album at age 18, he joined Murder City Sparrows, and has worked with a number of incredibly talented musicians since. He's headlining a show at The Artery, along with Nature Of, and a Vancouver/New York City act called The Albertans – and what's with that? Find out on this night at 7 pm, $18 advance, $20 at the door