MUSIC PREVIEW: Rockin' New Year's Eve!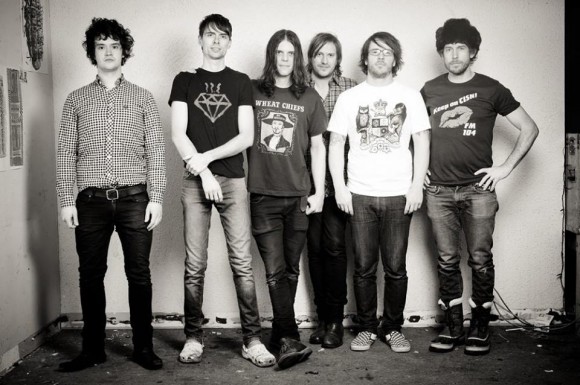 Edmonton's eclectic music scene always throws down some mean New Year's Eve parties, and this year may take the proverbial cake. The biggest draw may be over at the Starlite Room, where local legends Shout Out Out Out Out are headlining. The dance-punk group featuring two drummers were somewhat quiet this year, but they're going out with a bang, their signature over-the-top raucous live show taking centre stage. Their most recent album, 2012's "Spanish Moss And Total Loss", received rave reviews throughout the music media. Don't expect as quiet a 2014 from them.
Also on the bill are local dance-and-brass-rock act Wet Secrets (whose member Lyle Bell is also part of Shout Out Out Out Out) and hip hop artist Mitchmatic. One of Canada's best-known rappers Cadence Weapon will also be running a DJ set. The bill is filled out by noise pop duo Love Electric and electronic act Physical Copies – both of whose members are in the headlining band as well. 8 pm $20
Michael Rault
This singer-songwriter of repute – son of legendary local broadcaster and bluesman Lionel Rault – now lives in Toronto, though definitely still refers to Edmonton as his hometown. He was part of the inaugural lineup of the 2012 Interstellar Rodeo, and continues to tour based on his critically acclaimed album "Ma-Me-O", and his more recent EP "Whirlpool". Psych-pop act Cantoo opens. The Artery, 8:30, $20.
The Wicked Awesomes
This new wave act has also been relatively quiet recently after significant buzz a couple years ago based on a couple of albums, including a 2009 effort that included such tracks as "80GB iPod" and "You Never Invite Me To Your Heavy Metal Vomit Parties". Also performing is the fuzzed-out garage duo Famines, which is scheduled to head back into the studio in January. One of Calgary's favourite bands, Fist City, will also be performing. Wunderbar, 9 pm, $15.
Jr. Gone Wild
If you missed this locally legendary country-rock band's reunion gig back in the fall, you're in luck, because they're headlining a New Years' show over at the Black Dog Freehouse. 8 pm, $25.
Hey Romeo
On the hot side of country music, this local country trio kick-started their career back in 2007 covering Fleetwood Mac's famous "Second Hand News" and found themselves rocketing up the national radio charts. They were named the 2011 Group Of Duo of the Year by the Canadian Country Music Awards, and their most recent album, "Twist Of Fate", was one of the best collections of country love songs that the nation's seen in some time. Cook County Saloon, 7:30 pm, $20.
Menzingers
This aggressive and passionate punk act from Pennsylvania has three albums to their credit, their most recent the "album of the year" pick by the two most preeminent punk websites, absolutepunk.net and punknews.org. Audio/Rocketry, On the Brink, and Elder Abuse open. Pawn Shop, 8 pm, $25.
Jenie Thai
This young phenom released a sensational album "Only the Moon" earlier in the year, which dekes and feints brilliantly between smoky-basement blues and summertime indie-pop. Her incredible voice only adds to the exceptional talent that's sure to keep her at the forefront of the local music scene for many years to come. And not only is she headlining this New Years gig, you're invited to bring a sleeping bag and enjoy a pancake breakfast in the morning! Roxy Theatre, 9 pm, $20