MUSIC PREVIEW: Got a new girl now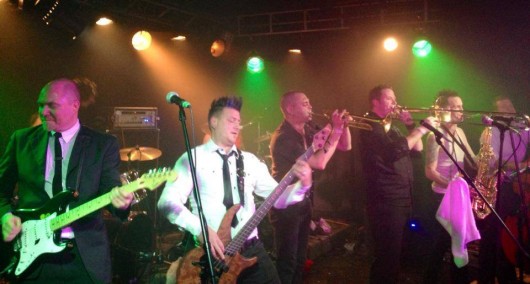 It'll be a tough weekend for gigs and gigging, what with Valentine's Day on Friday night – and the Olympics on TV all weekend, especially now that hockey's started.
But there is nothing more romantic than going to see a rock show with your partner in love, is there? Do yourself a favor and check out one of these excellent shows. You won't be sorry.
Friday 14
Honeymoon Suite – Who doesn't want to reminisce back to the 1980s with glorious hits like "New Girl Now", "Burning In Love", "Feel It Again", and many more on this, officially the most romantic day of the year? One of Canada's top bands at the time, and odds are you had no idea they still put out three albums in the 2000's. Century Casino, 8 pm, SOLD OUT
Needles//Pins – Wunderbar's Valentines Day event features this power rock trio from Vancouver that made a cavalcade of new fans in Alberta when they came out for Sled Island in 2012. Calgary's Mandates are also on the bill, and critically touted Switches, whose surf rock eponymous EP made a number of 2013 best-of lists. 9 pm, $10.
Mad Bomber Society – This reggae/ska band (above) has been going strong since 1997, and is a favorite of many locals. Their music is heavily influenced by the "2 Tone" movement which emerged from England in the late 1970's, combining ska, punk rock, rocksteady, reggae, and new wave. With The Fuzz Kings and Napalmbomb. Pawn Shop, 8 pm, $15.
Saturday 15
J.P. Cormier – This Ontario native is one of the country's premier bluegrass/country performers. He's been playing guitar since he was five years old, which gives him well over 40 years of practice. He's released over 10 albums, and has won a number of esteemed awards here in Canada. Festival Place, 7:30, $23.25 but limited availability.
Souvs – These local indie rockers like infuse their music with electronics, psych, and noise. It's somewhat reminiscent of Arcade Fire's current sound, but with significantly more experimentation, and edge. Calgary's Modern Aquatics, Creaks, and Consilience also perform. Wunderbar, 8 pm, $10.
Manraygun – These local folk rockers, fronted by Everett LaRoi of Idyl Tea local fame, are hosting a release party for their newest effort, "Outside Thoughts", over at the Blue Chair Cafe. The "Family Day Show" is somewhat of a tradition for this band, and has sold out four years in a row. Their sound continues to evolve, living somewhere in between folk, country, rock, and Canadiana. 8:30pm, $15, reservations recommended.
Luke and Tess Pretty – One of the city's burgeoning young duos, Luke and Tess have already gained prominence throughout the national folk circuit, with a sound that deftly maneuvers between new-age jazz, world, and 70's jazz-rock, played with instruments that include a keytar, accordion, and various samplers. Jeffrey's Café, 9 pm, $10.
Monday 17
Zakk Wylde – Equally known for being the former guitarist for Ozzy Osbourne and the founder of heavy metal act Black Label Society, this renowned metal guitarist is in the midst of a 13-city solo tour of Canada. He's performing "intimate versions" – this we gotta see – of some of Black Label's most popular songs, as well as some of his own solo work from his album "Book Of Shadows", and that of his new project: the Southern rock band Pride & Glory. Busy guy. The Ranch Roadhouse, 8pm, $36. SOLD OUT.