MUSIC PREVIEW: Big Mac Attack!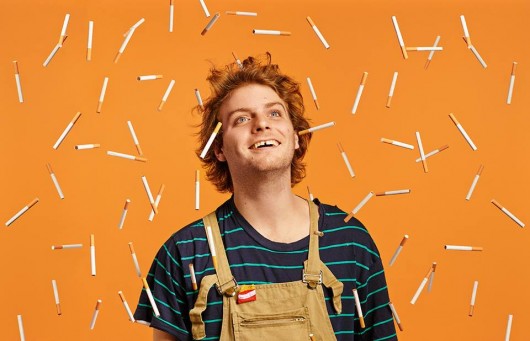 In a great weekend for mid-tier acts, the feature show may just be Mac DeMarco, who performs at the Starlite Room on Friday night. His album from earlier this year, "Salad Days", has been the talk of the continent since its release, culminating in its inclusion on the Polaris Music Prize long list. Don't be surprised when it makes the short list.
The Edmonton native, who now calls Montreal home, has quickly become known for his quirky down-tempo indie-rock stylings, with exceedingly catchy melodies and a lush, velvety voice. A number of his tracks have an atonal, lilting sense that is immediately enthralling as well. His debut release in 2010 didn't get much attention from the masses, but it got the right kind of attention from the inside to convince Captured Tracks – a New York indie record label – to finance a debut full-length. 2012's "2" won over many critics – composed and recorded in his Montreal apartment, the songwriting was favourably noted by many music writers, and compared to Real Estate's stellar album of the previous year.
"Salad Days", officially DeMarco's second full-length, was released on April 1 of this year. Also recorded in his Montreal apartment, with a more emotionally charged core of songs, including three about his long-term girlfriend, it immediately became another critical favourite, but this time his music started filtering out to the masses as well, and with that his fame has grown exponentially.
Calvin Love also performs on this night. Advance tickets are $16. BUY
Thursday 26
Weber Brothers – Ryan and Sam Weber have been professional musicians since their teen years, and then went on to be integral members of Ronnie Hawkins' backing band before starting to record their own music. The Ontarians are currently touring to support their seventh album. The Artery, 7:30 pm, $10 advance,  BUY

Friday 27
Steve Earle and the Dukes – This multi-talented singer-songwriter grew up in Texas, and is one of the better-known modern artists in the Americana/country-rock scene. Earle has a total of 14 albums, including last year's "The Low Highway". Myer Horowitz Theatre, 7:30 pm, $55, BUY
Saturday 28
Artery Anniversary Show – A who's who of the Edmonton music scene will be performing on this afternoon to celebrate the anniversary of this favourite downtown live music venue. The headliner will be the rock-R&B act The Almighty Turtlenecks. Also on the bill are Boxcar Gloryholes, Mayday & The Beatcreeps, The Play Plays, Jordan Norman, and Cadence & Nathan. 2 pm, $10, BUY
Doug and the Slugs – These Canadian legends have been "Making It Work" since 1977; other hits they've recorded over the years include "Too Bad" and "Tomcat Prowl," and despite the death of founder Doug Bennett in 2004, the band continues with its new singer Ted Okos. Century Casino, 7 pm, $37, BUY
Nick Cave and the Bad Seeds – Here's a show that many in the local music community have been looking forward to for a long time. This Australian native has dabbled in any number of sub-genres of the rock 'n' roll world, from post-punk to gothic and far beyond. His band's music, wavering between hopeful and hopeless, with a slow, yearning melody, is immediately infectious and ravaging. Having started their career in 1984 with "From Her To Eternity", the group is currently touring to support last year's effort, "Push the Sky Away". Limited seats remain for the Jubilee Auditorium show, $40 and up, BUY.
S. Carey – This show should be a real treat, as this Wisconsin native brings his solo project to Edmonton. He's also the drummer for Justin Vernon's famed Bon Iver band. Carey's second full-length should be out later this summer, expected to continue his style of indie-folk meets "ambient." Brixx, 8 pm, $15.50 and up, BUY