MUSIC PREVIEW: All hail the folk fest!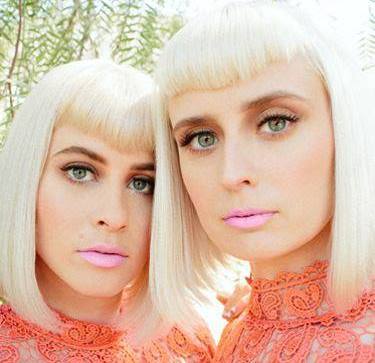 This weekend's live music lineup is of course dominated by the biggest and baddest of all of the city's music festivals. Well, OK, the biggest at any rate.
It's Folk Fest Weekend in Edmonton, and while some may lament the "old-school" direction the lineup's gone the last few years, there is certainly no debate that this year's event will host some of the world's most famous folk acts available, including Ben Harper, Blue Rodeo, James Vincent McMorrow, Los Lobos, and Michael Franti and Spearhead. And for those interested in artists from the new folk scene, check out buzz band Lucius (pictured), Michael Bernard Fitzgerald, Dan Mangan, and Phosphorescent. Either way, nobody will come home disappointed from the festival. Nobody ever does.
Speaking of biggest, Arcade Fire is arguably the most famous of all Canadian bands right now. After winning every award possible from their album The Suburbs, which sported such hits as We Used To Wait, Ready To Start, City With No Children, and Month Of May, they came back this year with a concept album that is also garnering a lot of attention. It shot to No. 1 across much of the world. They'll be in town on Monday night (Rexall Place, 7:30, $40.91 and up – lots of seats still available), and yes, they've asked people to dress up for their concert – "formal attire or costume" – but it's just a fun suggestion, and not a strict dress code as some in the hysterical music press suggested.
They brought a sensational underbill of opening acts, too: The Tune-Yards, a mix of indie-pop, lo-fi, and folk, with definitive influences from music around the world; and Baltimore native Dan Deacon, an experimental-electronic artist who has eight albums to his credit, and is revered throughout the musical community as a "musician's musician." Fans of musician's musicians know exactly what this means.

Thursday 7
Broken Bells – This indie-rock with a heavy electronic subtext features two artists better known for other projects, with Brian Burton (aka Danger Mouse), and the lead vocalist/guitarist for The Shins, James Mercer. The act released their sophomore album After the Disco earlier this year after a pair of songs from their debut became popular in 2009-10, The High Road and The Ghost Inside. Winspear Centre, 8 pm, SOLD OUT.
Friday 8
Pat Benatar – This classic rocker will hit us with her best shot – or is she inviting us to hit her with our best shot? – as she performs alongside her husband and long-time musical partner Neil Giraldo. River Cree, 6 pm, $59.95.
Calvin Love – This lo-fi indie-pop artist is back from a tour, and doing a solo show over at Wunderbar. Power Buddies and Jesse Atkey (also performing solo) are set to open. 9 pm, $10.
Saturday 9
Our good friends over at Wunderbar are also doing a pair of all-day shows on the weekend, affectionately known as the Wundi Summertime Megaparty. It's just $10 per day, music starts at 3 pm. Lineups are still being assembled, but let's face it, Craig Martellica is one of the best curators of music in the city, so you can't go wrong. Besides, there's a band playing on Saturday called Johnson From Accounting. Is that not the best band name you've heard in a while or what? Sunday will feature a Pixies Tribute Band with Edmonton's very own and uber-talented Alex Vissia. Alex Vissia doing Pixies songs? Sold.