Neil Diamond in Edmonton in May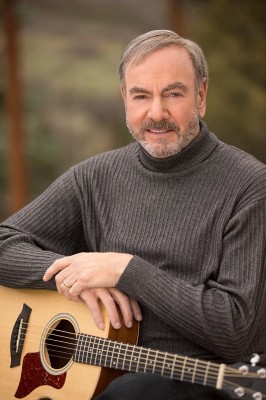 Say what you want about Neil Diamond.
Better yet, don't. Unless it's nice – lest his fell legion of female fandom descend upon you and give you what for!
Diamond, 73, has announced a slew of dates behind his upcoming album, Melody Road, including Tuesday, May 5, 2015 at Rexall Place in Edmonton. No ticket information yet, but seats are expected to go on sale on Monday, Oct. 13, looks like in the $80 to $200 range (if U.S. shows already on sale are anything to go by). Check Ticketmaster for updates.
Melody Road, released Oct. 21, will be Diamond's 30th studio album. He has been writing and performing his own music since the 1960s, when his first job was writing songs in the Brill Building, that legendary New York song factory, for $50 a week. Among his most popular hits are Cherry Cherry, Kentucky Woman, Sweet Caroline and Cracklin' Rosie, and do you notice any sort of running theme here? They're all about women! You can't go wrong with songs about women. Therein lies the secret to his longevity.
Say what you want? A master showman and purveyor of melodies so catchy they cannot be removed from the human brain by any means short of a lobotomy, Neil Diamond is so cheesy that he transcends cheese. He goes far beyond schmaltz, throws cornball on its ear, eats maw for breakfast, saps the sappiness from sappy, and sticks so close to the middle-of-the-road that all other middle-of-the-road pop stars should hang their heads in shame. In fact it was Diamond who invented the road in which he travels so proudly in the middle of.
Should be a good show, anyway – concert tickets being the No. 1 Mother's Day gift in 2015.