Music Preview – Heroes, old and new
It's a strangely quiet time of year right now in the music scene, allowing everyone to catch their breath before the frenzy that is spring release time. Heck, even the Starlite Room has zero events going on the entire weekend. Zero.
A lot of musicians are probably holed up writing songs for their next big record, perhaps there's some sort of correlation between how cold it gets in the winter, and the number of songs written about the weather.
Other bands are busy solidifying their setlist for upcoming tours.  We Were Friends, for example, an up-and-coming band in the indie-pop realm, is planning a trip to Kelowna/Vancouver in February, and then a more extended tour into March before more local dates.
Of course, that doesn't mean there isn't some worthwhile gigs to check out. A trio of legendary classic rock acts take to various stages on Saturday night, for example. Plus there's a January album release by a blues duo soon to be heading for warmer climes.
Friday 16th
Two Blue. This new blues duo, featuring vocalist Karmiah and veteran guitarist Robert Walsh, are hosting a pair of album release parties this weekend (Friday and Saturday) for their début release, both at Café Bicyclette near Faculte Saint-Jean. The pair is also warming up for the Memphis International Blues Challenge, where they're heading later this month. Doors at 7:30 both nights, $10 at the door.
Owls By Nature. One of the city's most recognized folk rock acts headlines a night at the Pawn Shop (8pm $10). One of the city's most talented up and coming acts in the same genre, The Lunas, is also on the bill, as are Old Towns and The Bleeders & the Boy.
Saturday 17th
Friends Of Foes. This Saskatoon indie quartet deftly combines pop, folk, and rock influences into a blistering force of sound and emotion; they're playing at the Black Dog Freehouse for their no-cover regular Saturday afternoon gig. 4pm.
Chilliwack. What kind of weekend would it be in our fair city if it wasn't for some good old classic rock. This Vancouver act is probably best remembered for their songs "My Girl (Gone Gone Gone), "Whatcha Gonna Do", and "Lonesome Mary", all of which were pretty big hits for the band back in the 1970's and 80's. Frontman Bill Henderson is still going strong, wrangling the quartet out for tour after tour. Century Casino, 7pm, $54.95.
Don Felder. Not to name drop, but this epic guitarist once gave lessons to Tom Petty. Yes, that Tom Petty. He's more known, of course, for his work in The Eagles, who he first got to know when he was asked to play slide guitar for a single track on The Eagles' 1974 album "On the Border". He was invited to join the band on a full time basis the next day, and remained with the band until their breakup in 1980. Then again for their reunion, from 1994 until 2001, when he was fired by the band, and immediately filed lawsuits against all sorts of individuals and organizations (followed by countersuits of course; the whole matter was settled out of court in 2007). Felder has two solo albums to his credit, 1983's "Airborne" and 2012's "Road To Forever", the latter of which features a who's who of classic rock, from Crosby, Stills and Nash (yes, all three), to Randy Jackson, to Tommy Shaw (Styx) and Steve Porcaro (Toto). River Cree, show at 8pm, $39.50.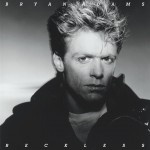 Bryan Adams. Did we mention there was a lot of classic rock happening this weekend? This legendary performer is touring to celebrate the thirtieth anniversary of his album "Reckless". You know, the one that included "Summer of '69", "Kids Wanna Rock", and "Run To You", amongst others. Those in the younger generation may not remember him all that much, but at one point in his career, he almost defined Canada. Any time you were traveling outside the country, everyone knew two things about Canada – Wayne Gretzky; and Bryan Adams. Rexall Place, 8pm, $19.69 and up.