NDP MLA puts music to public service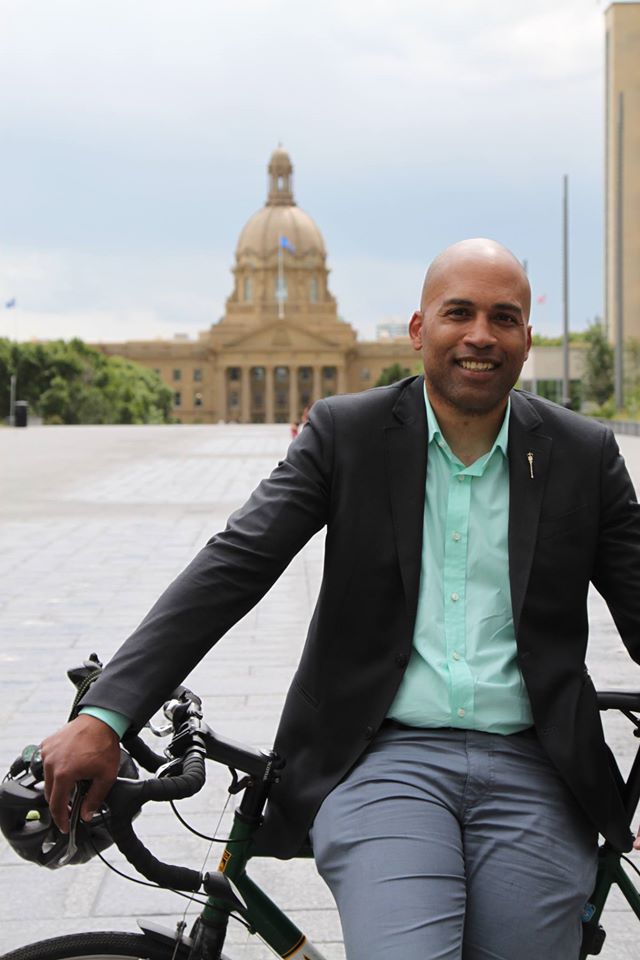 The list of professional musicians elected to government office is very short indeed. In fact, David Shepherd – MLA for Edmonton-Centre – seems to be the only example in Alberta history.
He performs Thursday at the Needle Vinyl Tavern: "Shepapalooza" – also featuring White Lightning and Ben Spencer – which turns out to be a fundraiser for his electoral district association, because public service is a full-time job. It's Shepherd's first gig with a band in five years.
"I'm a little bit nervous," he admits, and a bit rusty, too, he says. "I gotta make sure I step up my game here."
Politician-musicians are hard to find; "Rocking out" is not usually included in the resumes of our elected officials. Island Records recording artist Andrew Cash (brother of Peter Cash of the Skydiggers) was an MP for Toronto-Davenport. Cash's pal Charlie Angus (of the Grievous Angels) has been the Timmins-James Bay MP since 2004. Joe Keithley of the punk band DOA has had mixed luck in his bids for office, maybe because his nickname is "Shithead." We can't stand too much honesty from our politicians.
And that's about it for Canada. Now what do all of these people have in common? That's right, they're members of the NDP (or Greens in Keithley's case, close enough). NDP is the clearly most musical political party. Culture and Tourism Minister David Eggen – one of the people who talked Shepherd into running for office in 2015 – was also a keyboard player in another life, and might even be talked into sitting in for a tune or two at Thursday's gig, Shepherd says. Might we also see the Premier? She goes to a lot of shows. Also, she sings.
There have been plenty of musical politicians, gifted amateurs who got real jobs. Stephen Harper can sing and play the piano. So can Vladimir Putin. George W. Bush took up painting. Whatever our politics, we all have artists lurking within.
David Shepherd is no amateur. He did two years at the MacEwan music program, was a recording engineer, played with the James Murdoch Band and released his own album Gotta Leave Where You're From in 2010. The technical deciding factor in the word "professional" is that one has had aspirations for a full-time career in music. For 12 years Shepherd tried, and almost made it.
"I would've loved to make a living at music, I never did get there," he says. "I always had a side job of some sort."
As he realized day jobs didn't amount to a real job, he went back to school: First in education, then in communications. It was a stint on his condo board that got Shepherd interested in politics.
"I went, huh, I think I might be good at this," he says. "I'm good at organizing people, I like to fight for things I believe in. And at that point I was following federal and provincial politics and I thought that maybe 10, 15 years down the road I might like to run for office. This was about 2011."
From there, with the musical career on hold, he became an successful lobbyist for Edmonton bicycle lanes, joined the NDP to support Rachel Notley's campaign, and ran against Liberal incumbent Laurie Blakeman for the Edmonton-Centre riding, and no one – including himself – imagined he had any hope of winning.
We all know what happened next.