PLAYBILL: Sing, Little Women!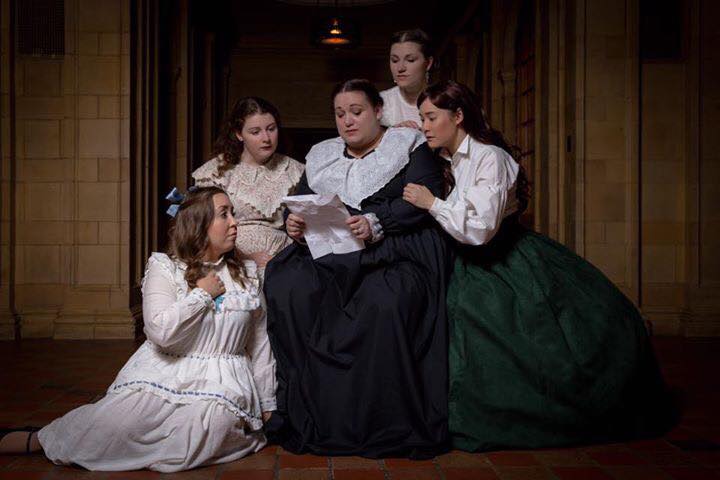 It would be interesting to go back in time and tell Louisa May Alcott that her coming-of-age novel Little Women would one day be made into a musical.
Indeed, this would be the best use of a time machine.
"Prithy, sir, what is this 'musical' of which you speak?" the Victorian authoress might've replied.
So maybe we could bring her to the year 2017 to see Little Women: The Broadway Musical, the fall show from Foote in the Door Productions playing Nov. 3-11 at the L'UniThéâtre at La Cité Francophone. Why not – as long as we're fantasizing about 150-year-old literature being made into musicals.
Alcott might like this show. The semi-autobiographical story of the March sisters may yet be more mounting evidence that the 1800s was a lousy time to be alive. Dad was away at war the whole time. What a drag. But the somewhat grim tone of the original is certain to be obfuscated in this buoyant production from a proven company of musical enthusiasts. Just go to the song list: Our Finest Dreams, Take a Chance on Me, Some Things are Meant to Be, Sometimes When You Dream … yup, bouyancy confirmed.
Now will the 21th Century wind up being the best of times, the worst of times? The studies continue.
Waxworks
Has there always been a fascination with wax celebrities? At least since 1789, as it turns out, when a young Frenchwoman becomes famous for her uncanny lifelike sculptures of real people. Her name? Madame Tussaud, of course. You've probably see her namesake wax museum in Las Vegas, maybe even stood next to Wayne Newton. "Prithy, quel est ce Las Vegas?" Some bugs in the time machine there.
At the time, the French Revolution was raging, so Tussaud was forced to put signs on her mannequins labelled "patriots" or "enemies." (SHHH! Don't tell Trump.)
Telling the whole story of the difficult marriage of art and politics in a stage biography of Tussaud's life is the Trina Davis play Waxworks, a workshop performance for the first show of the season for Concordia University's "Theatre At Cue" company. It plays Nov. 2-12 at the Al and Trish Huehn Theatre at the college (73 Street and 111 Avenue).
The Skriker
Here's a spooky story for Halloween aftermath being produced by the U of A's ABBEDAM company. Written by Governor General Award-winning playwright Caryl Churchill, it's a chilling tale of a woman whose baby was allegedly murdered by another women – and they are both visited by a horrifying apparition that will stop at nothing in its quest for love and revenge, not necessarily in that order. The action is set in a modern world where magic exists and supernatural beasties lurk everywhere.
The Skriker plays Nov. 2-5 at the Second Playing Space at the Timms Centre for the Arts.
Lone Wolf
Dancer Joshua Beamish has performed all over the world, but he was born and raised and trained right here in Edmonton – and now he makes a triumphant return in the latest show from the Brian Webb Dance Company, Nov. 3-4 at the Timms Centre for the Arts. Beamish, who is described (in a press release) as "riveting, formidable and sexy," will perform three works by Canadian choreographers, one solo and two with partners.
The Testament of Mary
Someone has ripped down every single one of the posters advertising this show in Edmonton. Not just random vandalism, but specifically targeting a fictional play that lets Mary, the mother of Jesus, tell her side of the story. Imagine. If it's some outraged Christian activist, he should know that there have been many interpretations of the Bible. Most are far more controversial than this. He – or she, but probably he – should also know that ripping down posters is a crime, and that in the end the offense only hurts whatever holy cause they're trying to promote.
On top of that, now we're REALLY curious what Mary has to say. Thanks, Christian Poster-Ripping Guy!
Starring Holly Turner in a brilliant performance, the stage adaptation of the Colm Tóibín novella produced by Northern Light Theatre and directed by Trevor Schmidt runs until Nov. 4 in the PCL Studio at the ATB Financial Arts Barns.
Constellations
Here we have a whimsical romantic comedy that imagines many different alternate universes in which same couple, played by Mat Busby and Liana Shannon, meet in many different ways. Despite being caught in some kind of existential spin cycle, they do manage to fall in love. Nothing like a good time loop tale: Like Groundhog Day meets The Edge of Tomorrow.
Nick Payne's play produced by Shadow Theatre runs until Nov. 12 at the Varscona Theatre.