PLAYBILL: John Ware comes to life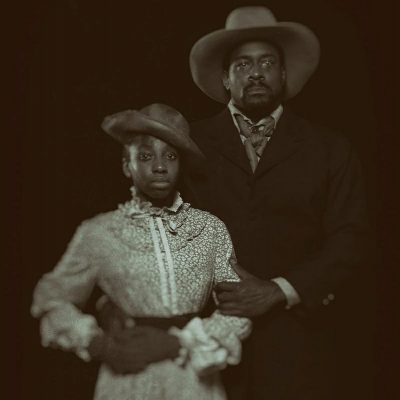 Not much is known about the life of John Ware – which of course means it's open season for curious biographical playwrights. As long as their poetic license is up to date with not too many demerits.
The record of Calgarian playwright Cheryl Foggo appears to be clean, and her celebrated play John Ware Reimagined comes to Edmonton in a Workshop West production Nov. 9-19 at the Backstage Theatre. Jesse Lipscombe stars in the titular role.
John Ware was what you might call a "real cowboy." Born a slave in South Carolina in 1845 and freed after the Civil War, Ware discovered he had a knack for horsemanship, worked cattle drives, and wound up running his own ranch near Brooks, Alberta, where it is said he helped make the province's cattle industry what it is today.
It was also said there wasn't a horse this man couldn't ride, or a racist white guy he couldn't placate. He also stood 20 feet tall, one leg athwart each bank of the mighty Red Deer River as he tamed herds of wild beasts with only his steely gaze. (Sorry, one poetic license demerit there). Yes, there are a lot of gaps in the real story, the legend who has practically attained a Paul Bunyan status in Alberta – and Foggo has filled them in with wit, warmth and what sounds like one heck of a ripping yarn.
Jersey Boys    
Every radio in Edmonton in the 1960s was tuned to 630 CHED AM – especially when Frankie Valli and the Four Seasons came on the air. Big Girls Don't Cry, Oh What a Night, My Eyes Adored You, good God, how the memories come flooding back.
The band of so-called "Jersey Boys" came long before Jersey Shore and had a stormy, complicated history, so of course it was natural to put it all together in a "jukebox musical" – which means more song 'n' dance spectacle than actual narrative theatre. It's been a hit on Broadway since 2005, winning every award available and spawning tours along the way. And now Jersey Boys comes to Edmonton for a limited engagement by Broadway Across Canada, at the Jubilee Auditorium Nov. 10-12. Take your mom!
Back to the '80s, Part 2
One show is not enough to encompass all the wonder, horror and fashion embarrassment that was "The '80s." At least there was some swell music to get us through it. Can we make the declaration yet that the '80s are the new '60s?
The Mayfield Dinner Theatre is presenting its own sorta jukebox musical to get us through the holidays, the second such show dedicated to the decade we all remember fondly until we look at the bell-bottomed horrors lurking in our closets: Back to the '80s Part 2: The Adventure Continues runs Nov. 7 to Jan. 28, and uses Bill and Ted's trusty time traveling phone booth to mine musical gems from people like Prince, David Bowie, The Rolling Stones, and Madonna – and hey, how did she get on that list? Because Madonna WAS the '80s, that's why. She's going to need a whole jukebox musical just for her.
Hadestown
You had us at "steampunk musical."
Edmonton gets to see a major brand new work called Hadestown BEFORE it opens on Broadway next year. Oh, call it "paid rehearsal" if you like, though "development" is the more accurate word – and this is a treat. The play is based on a concept album by Vermont folksinger Anaïs Mitchell, who's been working with producers since 2013 to bring it to the stage. Making its Canadian premiere Nov. 11-Dec. 3 at the Citadel Theatre (it already ran off Broadway), Hadestown is called a steampunk musical that knots together Greek mythology, American folk legends, and the sounds and sights of New Orleans. The story deals with people who take shelter from the harsh winter in an underworld work camp called Hadestown – where there's no disguising the metaphor that they've ended up in Edmonton. Ha! Got you there. It's hell. At least they get to leave six months of the year.
Jabberwocky
Twas bryllyg, and ye slythy toves, did gyre and gymble in ye wabe: All mimsy were ye borogoves, and ye mome raths outgrabe …
Aieeee! Beware the Jabberwock what obfuscates meaning and sows confusion and madness through whatever drug Lewis Carroll was on when he wrote the ridiculous poem in 1871. Dr. Seuss had nothing on this guy.
It's been a thing that no one knows what it is ever since. So once again a valid poetic license is required to sort out a lack of information: Is it a monster or what? Is it a case of a press release writer afflicted with alliteration? Is it 'fanged or flapping, furry or finned, ferocious or formless?' Terry Gilliam had his own take on Jabberwocky in his 1977 film. And now in Edmonton, The Old Trout Puppet Workshop will present a "puppet extravaganza for adults" at the Roxy on Gateway Theatre Nov. 9-26.
Little Women: The Broadway Musical
It would be interesting to go back in time and tell Louisa May Alcott that her coming-of-age novel Little Women would one day be made into a musical.
"Prithy, sir, what is this 'musical' of which you speak?" So now we have to convince her to hop into the time traveling telephone booth to the year 2017 to see Little Women: The Broadway Musical, the fall show from Foote in the Door Productions playing until Nov. 11 at the L'UniThéâtre at La Cité Francophone.
Alcott might like it. The semi-autobiographical story of the March sisters may yet be more mounting evidence that the 1800s was a lousy time to be alive. But the somewhat grim tone of the original is certain to be erased in this buoyant production from a proven local company of musical theatre enthusiasts.
Waxworks
Fun fact: When Madame Tussaud started making wax mannequins of celebrities in the late-1700s at the height of the French Revolution, she was forced to put signs on them labelled "patriots" or "enemies." What a great idea! Let's start with ______!
Anyway, telling the whole story of the difficult marriage of art and politics in a stage biography of Tussaud's life is the Trina Davis play Waxworks, the first show for Concordia University's "Theatre At Cue" company. It plays Nov. 2-13 at the Al and Trish Huehn Theatre at the college (73 Street and 111 Avenue).
Constellations
Here we have a whimsical romantic comedy that imagines many different alternate universes in which same couple, played by Mat Busby and Liana Shannon, meet in many different ways. Despite being caught in some kind of existential spin cycle, they do manage to fall in love. Nothing like a good time loop tale: Like Groundhog Day meets The Edge of Tomorrow.
Nick Payne's play produced by Shadow Theatre runs until Nov. 12 at the Varscona Theatre.