Corb Lund and Ian Tyson: The Last cowboys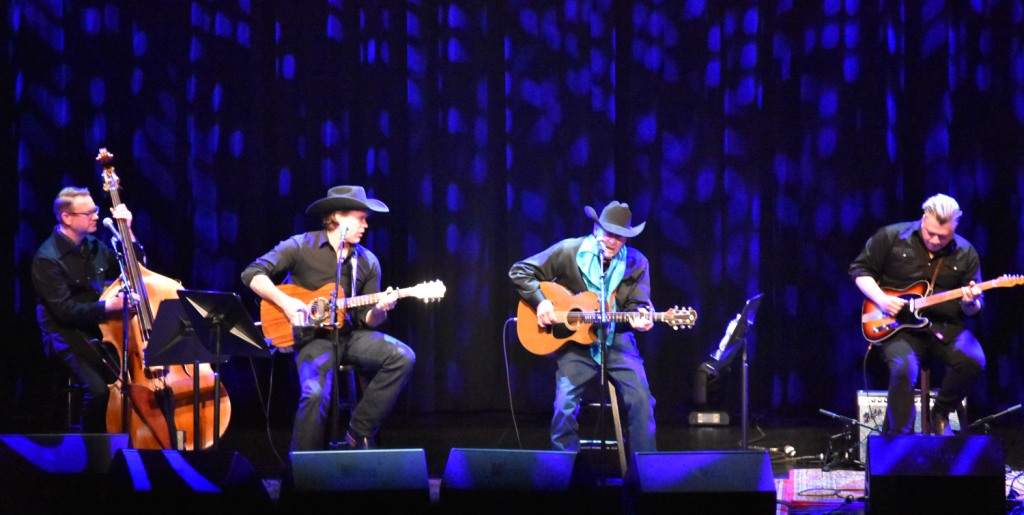 There was an edge of sadness to Saturday night's Corb Lund-Ian Tyson collaboration at the Jubilee Auditorium in Edmonton – a sense of that the cowboy lifestyle they sing so passionately about is going away forever.
"Our good times are all gone" goes the line in Four Strong Winds – which ended the concert (as it does the folk fest every year) to a standing ovation from the sold out crowd. In 1963, this song was written about breaking up with someone, but modern interpretation can be taken any way you like. The age of meat is coming to an end.
In a drummer-less acoustic setting suitable for the Grand Old Opry in the olden times, these two artists' songs worked beautifully together on stage: each respective canon filled with vivid portraits of life on the Alberta land, the rolling plains, the mountains, the big skies, and all the fauna therein, horses, cows, buffalo, antelope, grizzly bears, you name the animal. It's obvious these guys have lived what they write and sing about.
Yet throughout the loosey-goosey, homey, playful jamboree where Ian made great sport of being 84 years old, there lurked dark emotions: chilling metaphors, heartbreak, struggle, loneliness, regret, and above all, loss. Real cowboy singers – like Ian Tyson and Corb Lund – are an endangered species.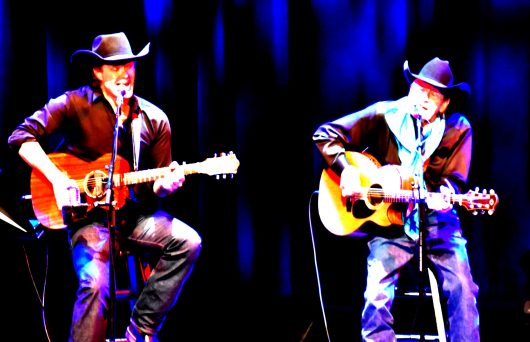 It's a mystery which one of these Alberta legends will wind up being the "last cowboy poet," the Last Jedi. Corb is certainly a contender – and he's in his prime. Addressing the sold-out crowd with giddy homespun humour, the singer talked about all the labels he's worn over the years: Alt-country, outlaw country, roots-country, and decided to invent his own genre: "Agricultural tragedy" ("ag-trag" for short).
He couldn't have come up with a more fitting label – for both himself and his elder stagemate. They both cut to the heart of the sorrow over the erosion of rural life.
Accompanied by Kurt Ciesla on upright bass (also known as a "Big Butch Bass Bull Fiddle," a song they didn't do at the show) and Russell Broom on guitar, Corb opened the show on his own with This Is My Prairie. This set the tone for a night that was so Alberta you could almost taste it. You could literally smell it. There was chewing tobacco in the audience. Unmistakable aroma in an intergenerational crowd equally and amiably mixed between local hipsters and real cowboys who came in from rural communities. Usually you smell weed at concerts. It couldn't be more Alberta if you made it into Alberta Springs whiskey and drank it. And they did.
A few more songs from Corb – including a fast and fun but depressing song about big dreams dashed by alcoholism (Gonna Shine Up My Boots) – and it was time for some Ian Tyson. He started with the favourite Navajo Rug. His voice sounded rough, raspy, like he needed to clear his throat, yet his high harmonies were bang-on, and he even did some yodeling. Like what scat singing is to jazz: When mere words cannot express your emotion, lonesome howling will do. Tyson's guitar skills were just fine, too, no worse than Neil Young.
They traded off songs like some folk fest session. Corb showed off his quirky material, lots of sad tunes dealing with redneck mishaps or bygone days or both, including a gory talkin' cowboy poetry song about being the son of large animal veterinarian in Taber, Alberta, called simply enough Talkin' Veterinarian Blues. He later did the song he'd made a deal with the devil for: In exchange for "moderate success" as a fringe country artist, he has to sing The Truck Got Stuck "for the rest of my goddamned life … not a bad deal," he added. The song is Corb's biggest hit, and got the biggest reaction.
When it was his turn, Ian demonstrated an astounding depth of songwriting history and cowboy lore, including the bittersweet 1968 Ian & Sylvia hit Someday Soon, "which paid a lot of alimony," he said to a lot of laughs.
Corb and his sideman took care to make Ian sound good, and added strong vocal parts to classic country hits like The Gift, which speaks clearly of wild Montana and the great old west painter Charlie Russell. This lyric hits home, a plea to the artist to hurry up and paint more landscapes: "Get her all down before she goes. You gotta get her all down, 'cause she's bound to go."
Ag trag at its finest.