LEDUC RADIO: New country station declares undeclared war on CISN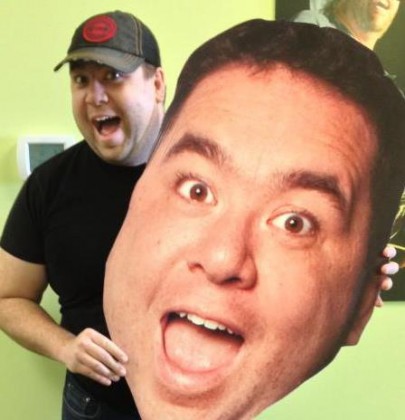 There hasn't been a serious challenger to CISN radio's hot country hegemony in decades of Edmonton Radio. That's all about to change with Tuesday's launch of "93.1 FM The One" in Leduc.
This is war – and the funny thing is that neither opponent will ever declare it openly, because that's just the way radio wars are. Silent, but deadly.
"I would say that maybe we're a very small bit of competition," admits The One program director and former CISN announcer Mike McGuire (right), "but at the same time they sure seem to be acting like we're a big deal and I guess you could be flattered by that. But at the end of the day, we're not going to change our mandate: A country radio station for Leduc County. We're not trying to backdoor anybody."
Oh, but they already have. At least every single country music fan in Leduc County, for starters. The choice for the very first tune on Leduc's very first radio station couldn't have been more perfect, which of course is the very definition of the word "perfect": Corb Lund's "Roughest Neck Around." Great song, it's Alberta, it's country, and it's about the reason Leduc exists in the first place – oil. "Power to the people!" goes the chorus. Talk about an awesome fight song.
With a weak transmitter not designed to be picked up in Edmonton, though you totally can if you have a good tuner (not to mention Internet streaming anywhere on Earth), The One has three former CISN people on its front line. Like McGuire, Sean Burke was let go late last year due to a "change in direction" that has yet to be apparent in CISN's musical selection, which is, as ever, the hottest of the hot country (though getting country musician Clayton Bellamy to host the CISN drive-time show even though he has very little broadcasting experience is a bold and interesting move). Burke is now The One's morning man. Also part of the team is ex-CISN midday announcer Dave Rolfson, who was said to be so angry about the shake-ups that he quit. He's on The One now in a "relief" role, McGuire says.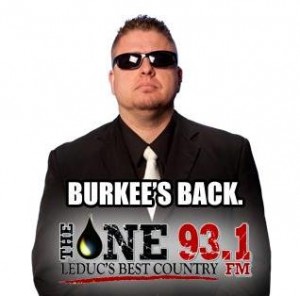 As for musical direction, The One is the only radio station owned by Mark Tamagi and his Blackgold Broadcasting Inc., which is determined to keep the station locally (Leduc) owned and operated, while giving McGuire a free rein he never had at CISN. There are no corporate bosses in other cities deciding what The One has to play, no focus groups; McGuire declares he will never hire a consultant, and that while other stations may use charts or what the record companies are pushing to determine their playlists, he only has one rule: "If it sounds good, play it."
This is significant. Listeners should be able to tell when human beings are selecting songs based on personal and hopefully seasoned tastes, as opposed to some corporate committee looking only at the bottom line. From Corb Lund, opening day One listeners were treated to a wide variety of hot country from today and yesterday: Jason McCoy, Shania Twain, Dolly Parton, George Strait, Paul Brandt, Michelle Wright, and there are some Can-Con (Canadian content) names you won't hear on CISN.
McGuire says, "We are going to focus on new music, but we're going to have a way bigger variety as far as classic and gold from artists that the consultants term obsolete. I'll never forget one day in the hallway where we used to work, a consultant had told someone there they needed to tighten up their CanCon list. So they joked, 'we just blew out all our Lisa Brokop songs!' – which is what they did. So one of the first people I called when I got here was Lisa Brokop: 'Send me everything.'"
McGuire adds, "Are we really supporting the artists or are we just saying that to make ourselves feel good? If you're going to run a radio station and say you support the artists, play their damn songs!"
Beyond the music, there's an interesting trend in the area radio business going on here. Also recently launched is Fort Saskatchewan's first radio station, Mix 107.9 FM, whose playlist is rather like Now 102.3 Radio, give or take two or three years and a few more Bon Jovi songs, and whose transmitter is big enough to reach the entire Edmonton metropolitan area. Like The One, Mix proudly demonstrates its loyalty to the specific small town it services, claims not to be competing with anybody, and draws much of its advertising revenue from the small town business community. But they are not separate from Edmonton Radio no matter what they say – just two more stations in an FM dial that's already jam-packed with choices, and so the listener base gets diluted even further.
It's the listeners who come out ahead on the deal. Like the Mix for Fort Saskatchewan, The One can offer Edmontonians an education on Leduc, which if we think of the town at all is the signal to slow down on that dodgy overpass on the way to the airport. But it's a swell community like any other; they have indoor plumbing and paved roads and a rec centre and everything. The One is good for Leduc, good for Edmonton. But most importantly, CISN Country 103.9 FM finally has some credible competition. Let's face it, they've been getting a bit lazy. Everyone's going to up their game now. We won't count Big Earl (now 96.3 Capital FM), whose run for country radio was a resounding failure in the mid 2000s, a five year plan that only lasted two years and apparently left the corporate radio bosses scared to try country radio again in this market. The time is ripe. The smart money is betting that The One will be around a lot longer than two years. Just keep playing "Roughest Neck Around" – Leduc's new National Anthem.