DARKROOM: The eight lives of Jim Gray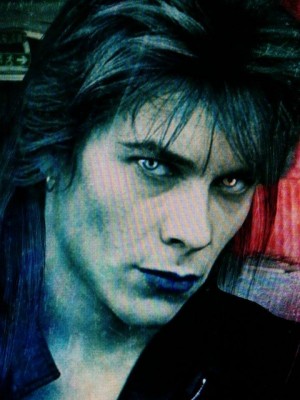 In the pantheon of rock musicians who by normal logic of consequences shouldn't even be alive is Jim Gray. Call him the Keith Richards of Edmonton. Still alive. Still playing music. Didn't see that coming, did ya?
Gray himself is the source of most of the dark jokes about the unlikelihood of his continued existence, at the age of 57, never mind being fit to lead the resurrection of his most famous band, Darkroom. He says, "I've used up eight of my lives, at least." Edmonton's most vivid 1980s artifact and another great Almost Made It story returns with all its original members, if not their splendid hair, to play the Century Casino on Friday, Nov. 14. It's their first gig since 1989.
Gray almost didn't make it through his latest crisis. Depressed from a failed marriage in England (where he'd moved from Edmonton for what he said was the last time in 2005 following a faux-funeral to raise money for his trip), he returned home, drunk and lonely. He reports that he could swill back a 26er of vodka in about an hour. These are hard-drinking feats commonplace among Gray and his rock 'n' roll peers back in the day; Jerry Woods from Jerry Jerry and the Sons of Rhythm Orchestra and members of Jr. Gone Wild were famous for their boozing prowess; but those guys are still alive because they cut it out long before they hit 50.
Three years ago back in Edmonton, Gray reconnected with his childhood friend Ann and they got married. It was in February 2013 that he suddenly decided to quit alcohol cold turkey.
"I had a psychotic breakdown in the hospital," he says. "I went into a dream state. I don't know if it was morphine they gave me. I went in for stomach pains, and then in my mind, I heard these voices telling me, 'this isn't a hospital, these aren't doctors, and they're going to kill your wife, and the only one who can save her is you.' So I broke out of my straps on the fifth floor of the Royal Alex – apparently, because I don't recall any of this, hardly. Apparently I ran down to the fourth floor and they were chasing me. There was this big black storm window at the end of the hall and I kicked it out – I've been a martial artist all my life – I smashed it. They didn't think I could break it, but I did. I think I broke my hip in the process. And I stepped out the window, just like in a Bruce Willis film, and I didn't realize I was four stories up."
He fell three stories and landed "on my feet" on the roof of another building, lucky for him, because while you can't say he literally broke every bone in his body, his injuries were so extensive that doctors called his family because they didn't think he'd make it through the night. They certainly never imagined he'd ever walk again.
"Seven weeks I was in a body cast," he says. "They had me on drugs. I wasn't in a coma. I was in a dream state. I didn't recognize my own wife, I didn't recognize anybody that came in, until one day the nurses said to my wife, 'He sings Beatles songs to us in the morning, so try bringing him some music.' So my wife brought in the new Bowie album and some Beatles CDs and played them for me, and then next morning, I sat up in the bed and went, I'm in a hospital, I've got this body cast on, but I know I'm Jim Gray and it's something stupid I've done again. I looked at my wife and said: where have you been?!"
Gray made a full recovery – doctors wondered aloud what planet he was from – and soon set his mind to rallying the troops for the Darkroom reunion.
"That's what happens when you're a vampire," jokes bandmate and bassist Jeff Schmidt. Remember that Gray played the part of "Lumpy" in the German-Canadian children's TV series The Little Vampire, still apparently huge in Europe, a gig that helped pave the way for Gray's side career of being set designer on feature films, where he worked off and on for many years after Darkroom, in Alberta and England.
Schmidt wasn't technically part of the first Darkroom line-up – formed from the ashes of a new wave cover band band called Spunk that once featured Loverboy's Mike Reno as lead singer – but he was there for the important part. The 1983 release of the album San Paku and the locally-smash hit single therein, In Dim Light, instantly got the band tagged as Edmonton's answer to Joy Division, thanks to the song's brisk, repetitive, moody little hook driven by an insistent synthesizer drone and the frontman's distinctive resonant voice. The song reeked of the '80s, easily as good as any new wave hit at the time. You could almost see the hair – and don't kid yourself, hair was a big part of this thing the old-timers call the "1980s."
Unfortunately, so was the excess.
On working with his sometimes-troubled friend, Schmidt says, "I tell you, when Jim's being good, he's the most awesome, genuine human being around. He's a treat to be around. But sometimes when the demons came around, for me personally, that's part of why I left that band."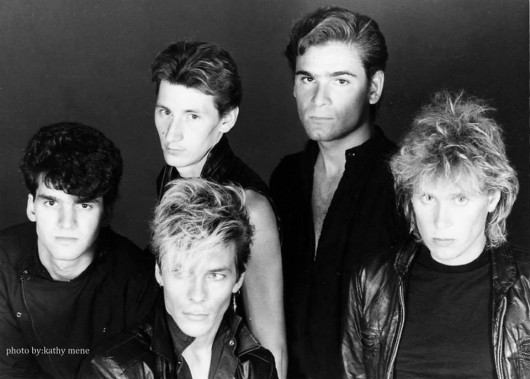 There were other reasons, all too familiar to the Edmonton Almost Made It Club. Despite the hit potential, none of Darkroom's songs ever cracked the top 40, and the band got dropped from its record deal with WEA after an argument over creative direction, says Gray. "They wanted us to do more pop songs, and we said that wasn't Darkroom, so we quit," he says. So while the band earned a loyal local fan base that helped break the iron fist of cover band tyranny in Edmonton, even at one point headlining the as-yet-unbranded Coliseum, Darkroom was doomed.
After Schmidt quit in 1985, he went onto play in another promising local band called Famous Blue Raincoat with Frank Juskiw and Brent Macnab. Both of them are dead now.
Gray doesn't express any survivor's guilt apart from saying things like "I look at every day different now. No. 1: I'm alive. No. 2:  I can walk. Every day I'm just surprised to be here. Because I almost did it that time for sure. Everything's fine now. I can't remember names or dates worth a damn, but I can remember thousands of songs in my head as if it were yesterday."
The band will be playing some fresh tunes at the gig – from the third Darkroom album that was recorded but never mastered or released – including one written by Gray in another moment of dark uncertainty in his past: Called Easy to Say: "It's easy to say I'll start over today and forget everything that I lost." As for the future, they're playing it by ear. New material isn't out of the question. Along with British new wave mojo, Gray inexplicably has deep country influences, and led a popular Edmonton roots-rock cover band called Cheatin' and Hurtin' for a number of years. Complicated guy.
The only question left is: Who, beyond members of their generation, or residents of Edmonton, could possibly care about a Darkroom reunion?
"I worry about that," Schmidt says. "I care, and I have a few friends that care. But all of us each having a few friends that care amounts to about 50 people." He's off by a few hundred, to judge by advance ticket sales. Darkroom fans are obviously excited, and both Schmidt and Gray say they're pleased how well the old songs still hold up, and how well they're coming together in recent rehearsals. The old "tensions" are gone.
"It's a lot calmer now," says Gray. "We don't get hammered every time we play."
Darkroom rehearsal photo by Mark Ohman; '80s B&W promo photo by Kathy Mene