THEATRE: Bus ride finds true meaning of Edmonton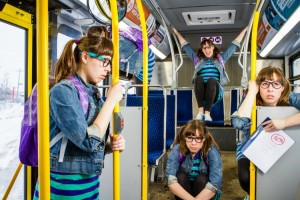 If you're lacking either Edmonton or Christmas spirit or both, a ride on the magic bus could do wonders.
And no, its not the No. 5 on the last Friday of the month.
"Birdie on the Wrong Bus" is billed as a heart-warming slice of Edmontonia, making its world premiere at the Show Globe Festival of Children's Theatre, running Dec. 18-22 at the C-103 Theatre. Playwright and festival producer (and costume designer) Ellen Chorley says the tale was based on a true experience of being lost on a bus, as an adult – in Calgary. "It was three hours thinking it would loop back and it never did," she says. "I didn't know Calgary at all. It was awful. I had just moved to Calgary and it wasn't a good time."
So she came back. Getting on the wrong bus works just fine for creating drama in children's entertainment. It's not Disney killing off mom, but it's up there.
Birdie (played by Mari Chartier) is a nervous girl who starts her bad day when she fails an essay assignment on "Why I Love Edmonton." Worse than that is accidently boarding on a strange bus that takes her on an unexpected journey, from the big boot on the West end to the giant bat on 97th Street to the Glenora fountain to the historic Garneau Theatre to the "end of the world," a secret place overlooking the river valley in Belgravia. Definitely not the No. 5.
"It's kind of a magic bus," explains Chorley. Also in the realm of fantasy are overheard bus conversations on local lore, like how Boston Pizza actually started in Edmonton, or the development of the Mass Effect video game series. There was a lot of research involved. "I'm not a video gamer," Chorley says, "so I had to learn all this stuff, like how to hold a video game controller." Cast and crew also Google mapped and drove the entire fictitious bus route. It took more than two hours. Participants describe it as a "blast."
Chorley says, "I think overall, what I found out is that Edmonton is a city that likes it when something is made here. Calgary is excited when a big headquarters comes to town. Edmontonians like it when something starts here and grows to be something."
Like a new theatre festival!
Needless to say, by the end of the play, Birdie has been inspired by her magical journey, finds the true meaning of Edmonton and gets a "good mark" on her make-up essay.
Neither this nor the rest of Snow Globe is overtly about Christmas, Chorley says. The other offerings – Robin Hood and Babes in Toyland – are more "Christmasy" than Christmas, though there are themes of family and home in Birdie on the Wrong Bus. The conflict comes from the character herself.
"This little girl Birdie tries to be an adult, and that's what gets her into trouble," Chorley says. "She thinks she doesn't need help and can't ask someone to help as the bus goes farther and farther from her house. But it's the same with adults. If we don't ask for help, we don't get it."