WEEKEND MUSIC: Motley Crue's latest farewell tour may be its last
Posted on April 25, 2013 By Michael Senchuk Entertainment, Music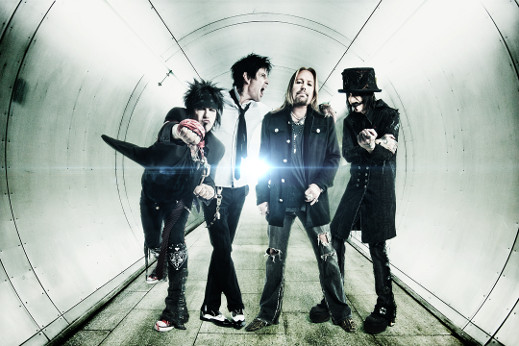 You know why it's such big news when bands or musicians finally retire? It's because the vast majority never do. Instead they just keep on making music and touring until they're no longer physically able to.
Such is the case with the band for this weekend's biggest gig, Motley Crue, who peaked somewhere in the 1980s with songs like "Dr. Feelgood" and "Kickstart My Heart", "Girls Girls Girls" and "Smokin' In the Boys Room." Yes, the vast majority of their songs were about women and fast cars. At that point in the glam metal era there was little else to talk about, apparently.
Despite the vast distance between then and now – the disappearance of music videos from television and onto YouTube; and the quick fall of glam metal itself – Motley Crue still continues to sprinkle the odd full-length album through the cosmos. Reinvented with less glam in favour of a more straight-forward hard rock act, Crue's last album came in 2008, titled "Saints Of Los Angeles".
And of course they continue to tour to support whatever habits they may have remaining. They'll be in Edmonton on Sunday night at Rexall Place, and while floor tickets are sold out, there's quite a few other seats remaining ($25 and up plus service charges). If you're a fan of their classic tracks, you'll undoubtedly be pretty pleased with what you get to witness. If you're a younger fan that likes their newer music  … well, actually, there's probably not that many out there, so never mind.
Nikki Sixx recently quipped that the Crue plan to do one more album, and then do one more farewell tour, and then call it quits, so you may not have many chances left to see this band. Of course, we've heard that one before.
Friday
Royal Canoe – After releasing a pair of EP's in 2012, this Winnipeg folk-rock act is back on the road preparing for the release of their full-length "Today We're Believers" in June. The band played just shy of 100 gigs in 2012, and while they may not be on pace to best that number in 2013, they're heading to Europe after this last set of gigs in the prairies. Vancouver indie rock quartet Rococode, no strangers to Edmonton either, also perform. Artery, 8 pm, $10 advance tickets at YEG Live.
Family of the Year – These indie-popsters from Los Angeles have a pair of full-length albums to their credit, and a level of critical acclaim that most other bands would kill for. A pair of songs from their most recent album, "Diversity" and "Hero," has gotten decent airplay on Canadian alternative radio, too. Haven Social Club, 8 pm, $20.
Lords Kitchner – This prog-rock band from Moose Jaw performs at The Studio Music Foundation, along with Hearsay, Element Orange, and White Pongo. 8 pm, $15.
DJ Muggs – Perhaps best known for his work with Cypress Hill and Soul Assassins, rhis veteran bass-centric producer/DJ is touring to support his 2012 solo album "Bass For Your Face." He's also remixed pretty much every band known to man. John Rolodex and Biddy B MC are also on the bill. Pawn Shop, 9 pm, $15.
Saturday
Anberlin – These Florida rockers are often considered part of the Christian genre, though their leader doesn't always appreciate that label. The band had a modicum of success on alternative radio stations in the last few years with songs like "Feel Good Drag" and "Impossible". Starlite Room, 5 pm, $29.
Romi Mayes – This Winnipeg artist combines country, blues, and bluegrass into a gritty personal style that could be enjoyed as equally by dancing, stomping your feet, or by sitting around drinking bourbon. The Artery, 8 pm, $15.