The curse of high expectations: Alice in Chains in Edmonton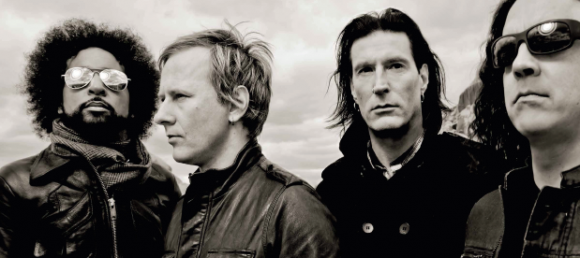 In the harsh light of a new day after the buzz has worn off, Alice in Chains seemed a bit sad.
It wasn't just the fact that barely more than 6,000 people came to Rexall Place on July 4 to witness what must've been the band's first ever Edmonton appearance – though that was part of it. If they were here before, it would've been some club before anybody had ever heard of them. Nirvana played here once, too, at the Bronx (now Starlite Room) in 1991.
And purists can argue that it wasn't really Alice in Chains because they had a new lead singer, the capable William DuVall, replacing Layne Staley, who died of a drug overdose in 2002. The whole classic rock conundrum comes up as it does when considering bands like BTO, Bad Comapny, Black Sabbath and that's just the B's – how can these guys justify keeping their name when some of the key members are missing? What say you, The Who? Explain yourselves, Fleetwood Mac. Give Alice a pass on this one.
It wasn't just the spectacle of aging Generation X Alice in Chains fans pushing 40, some of them from the other side. Witness purple Mohawks framing wrinkled faces, old Screaming Trees T-shirts a bit tight around the middle, and lots of tattoos people might be embarrassed about in their old age. At least the disco generation can hide their sartorial and tonsorial humiliations in a closet. These guys will wear their ink to their graves.
It wasn't the lack of flash, either. Arena rock concerts have become more Broadway-gone-Vegas every year, to the point one merely needs to describe it as "Cirque du Insert Your Favourite Band Here." And people wonder why concert tickets are so expensive. Alice in Chains tickets were $70 and they didn't even have much of anything beyond themselves. It would be sacrilege to suggest they were disappointing because they didn't have any dance routines, costume changes, dry ice, confetti cannons, pyro, giant robots or flying platforms. Just some cool lights and a couple of video screens, you know, for decoration. Jerry Cantrell wore what appeared to be a flannel lumberjack shirt the whole time. Beyond the nod to grunge roots from what was more of a straight metal band, Alice in Chains is not the kind of band that relies on special effects to get their message across. But neither Pearl Jam nor the Red Hot Chili Peppers had any problem delivering spectacular recent shows in town despite the lack of massive production. Ferocious performances of iconic songs were enough on their own.
So why was Alice in Chains somewhat underwhelming? They SOUNDED just like the records. DuVall does the job so well you might want to say "he's a dead ringer" if it wasn't in bad taste, blending his powerful voice with Cantrell's for the band's trademark "double lead vocal" style. The sound was deep, dark and loud. Sludgy Sabbath-like power ballads ruled the evening. It sounded like they'd tuned down their guitars well past the low E until the strings flopped around, at 120 decibels.
Chains has always been kind of a morose band. So were a lot of their grungy peers, come to think of it: Nirvana, Pearl Jam, Soundgarden. Songs are filled with thoughts of death. No Excuses is a depressing song about being depressed. Rooster deals with a Vietnam veteran – Cantrell's dad – with its memorable line "Here they come to snuff the rooster … he ain't' gonna die." Nutshell is a cry for help. So is We Die Young. So was Nirvana's "I Hate Myself and I Wanna Die."
Were things really that horrible in Seattle? It's a lovely town. I once wandered into a bar there around 1997 to discover – to my horror – a grunge rock cover band playing to about 20 people on a Friday night. Other than that, by then, the rest of the city's music scene seemed be fairly free of the trend that had incorrectly defined it as Grungeville Central. Yet people still fly the flannel flag. It's hard not to read a bit of classic rock age-ism into the title of Alice in Chains' latest album, the second since reformation in 2005: The Devil Put Dinosaurs Here.
In the end, it was a little of all of the above that will prevent this concert from making the top 10 list of 2013. It was a good show, not a great one. It was supposed to be special, and it wasn't. It was the classic curse of high expectations. Maybe the feeling comes from being spoiled, from feeling entitled to unending happiness where every event has to be a transcendent experience – including from a band that's famous for having a few thoughts on the fickle nature of happiness. It might just be too much to ask from all of your favourite rock bands of the past.