Fringing in the French Quarter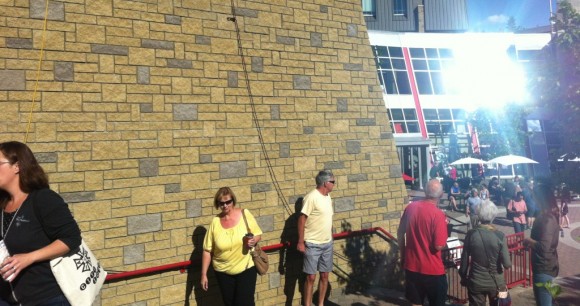 Rapide! Dispatch one accordion player, one mime and more wine to La Cite Francophone immediately! Mon Dieu, those poor tourists have nothing to do while they're waiting for their plays at the Fringe!
So polite.
Some people out East actually can't believe that Edmonton has a French Quarter – but there it is, just a few blocks West of Bonnie Doon Mall, a little slice of Le Petit Gay Paree right here in the Big Onion. Imagine. There are French nunneries, U of A's French campus, some little French shops and signage in French. La Cite Francophone and its environs are hosting 25 of the 210 Fringe plays this year. It has become a nice little satellite district of the Edmonton International Fringe Festival, which will inevitably continue to metastasize unchecked to other areas beyond Old Strathcona. Might as well make it pleasant.
It's a quieter place than the Fringe proper. No obnoxious Australian buskers. If La Cite gets a busker circle, and it really needs one, it should be a quiet act. Mimes are quiet, and French, too, so it works out. Some accordion music might be nice. The place also has an incredible French restaurant called Café Bicyclette, whose food puts the Fringe midway food to shame. More shame than usual, that is. It's gone downhill this year. But who needs crappy ginger beef when you have coq au vin and the best pink lemonade ever squeezed? They don't seem to mind if you smoke at the outside tables, either.
Francophonophobes shouldn't worry. The plays put being put on at the French Fringe Quarter this year are mainly in English. They range from touching stories of WWII vets revisiting Normandy (Jake's Gift) to one-man shows about the afterlife (Bursting Into Flames). Both are terrific. Grim and Fischer – another show about death, go figure – is wonderful, laugh till your cry and then cry. Til Death: The Six Wifes of Henry VIII is performed by one woman, supposed to be great. God is a Scottish Drag Queen is a big hit. There's Carrie: the Musical and Coraline: The Musical. The French Quarter Fringe has become a big deal. Come to think of it, it's bigger than the entire Fringe festival was when it started 32 years ago.
It's a real pain in the ass to pay the gouging bastards $8 for parking in Old Strathcona – or drive around endlessly for hope of a parking spot 10 blocks away – when you just have to drive to another area of town to see one of your Fringe plays. The French Quarter is well worth the trip.
Now all we have to do is work on downtown: get Churchill Square in on the Fringe. Maybe they could get some shuttle buses, too. Why the hell not? Sooner or later the entire city could be one big festival site.