MUSIC PREVIEW: Danzig remains a heavy hitter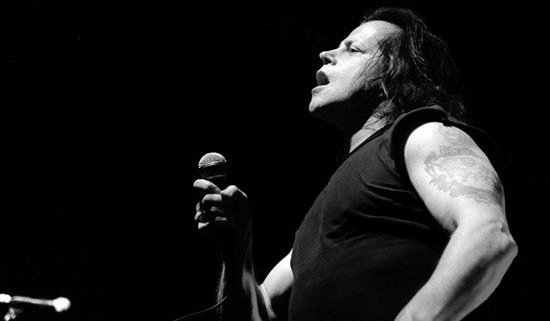 This weekend's heavy hitter award goes to the one and only Danzig, which slams its way into the city with an appearance at Union Hall on Sunday night as part of the 25th "Anniversary Of Danzig" tour. Yes, Union Hall, formerly the Thunderdome, formerly Goose Loonies, formerly whatever else it used to be called. The place has been getting a few more gigs since the demise of the Edmonton Event Centre last year.
Has it been 25 years already? Glenn Danzig has been the frontman of this bluesy doom metal band since 1987, performing with a varying cast of characters along the way. Like so many others, the band peaked on the charts early in its career, with the song "Mother" becoming their top hit and that's about it. Their cult popularity grew over time, however, as the band continued to put out hard-hitting release after hard-hitting release. Again like so many other acts in the metal and heavy rock world, a lengthy, solid career on the road can result in more fans than a single hit on the radio.
After the original lineup soured in the mid-1990's, the 1996 release of "Danzig 5: Blackacidevil" was more of a solo effort by Glenn himself, though there were a couple of notable appearances, with Jerry Cantrell from Alice In Chains playing lead guitar on three tracks. After this album, legal troubles tangled up Danzig and their original producer Rick Rubin for a few years, before the band righted itself with a core of exceptional musicians. Now there's even talk of a 10th Danzig album.
Also appearing at this gig are Scar the Martyr and Huntress. Doors open at 6:30. Tickets are still available, for $38 and up.
Friday
Proclaimers – Ach! This brotherly duo could easily command any of their legions of fans to walk 500 miles, or 800 kilometres, depending. The Scottish Everly Brothers are currently touring to support their ninth album "Like Comedy." Century Casino, 8 pm, SOLD OUT.
Cannon Bros – More brothers? This Winnipeg duo is the combination of the exceptional talents of Cole Woods and Alannah Walker. Like many guitar-drum duos – think the Black Keys or the White Stripes – the whole is greater than the sum of the parts. Another couple of Winnipeg bands, Haunter and Animal Teeth, are on the bill; as are The Good Goddamns. Wunderbar, 9 pm.
The Flash Jam/Cruel Young Heart – The Starlite Room is host to a bevy of terrific talent on this evening, ending with Edmonton's indie pop act The Flash Jam, and also featuring Vancouver's Cruel Young Heart, a synth-rock act known for thick drums, funky bass, lyrical hooks and loops galore. Also on the bill are Rend and FLTF.  9 pm. Advance tickets $11.
Mortillery – This local thrash metal act features an uber-intense female vocalist fronting a band that powers through its set with such ferocity that you may forget where you put your beer. Intensives, Warsenal and Kro-Bonez open. Rendezvous Pub, 10108 149 Street, 8 pm, $10 at the door.
Saturday
Ben Arsenault – One of the busiest country music artists you'll meet here in Canada, Arsenault moved from Vancouver to Montreal, fronted a bluegrass/country band called Martyr & Pistol, then returned to the West coast where he releases not only solo material, but also has an alt-country-jam project called Real Ponchos. That gives him a pretty wide catalog of material to choose from, though he'll undoubtedly be focusing on his recent album that is said to outline the very essence of human existence. Another recording is on the way soon. Black Dog Freehouse, 4 pm, no cover.
Any Last Regrets/Medical Pilot – These two local bands are co-hosting a dual album release party at Studio Music Foundation in the West end, along with No Witness, Unbalanced and some late night DJs. Both of the headliners play a heads-up, no-nonsense, in-your-face style of alt-rock, heavy on the drums, heavy on guitars, key word "heavy." 8 pm, $10 advance, $15 at the door.
Sunday
Calum Graham – Before this acclaimed fingerstyle guitarist from High River plays Cha Island Tea on this night, he is hosting a guitar workshop starting at 3 pm – so come all you pickers! He recently released a dual album with another renowned guitarist of the same level, Don Ross, including a cover of Outkast's "Hey Ya." Should be a great afternoon and evening, which will also feature Gypsie Dan Tansy. 8 pm.