MUSIC PREVIEW: All that glitters is Goulding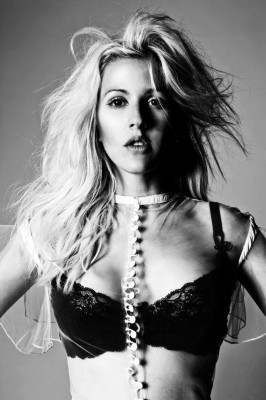 There are few female artists in the dance-pop world as hot as Ellie Goulding is right now – and even this early in her career her catalog is vast enough that some fans will undoubtedly leave disappointed she didn't perform their favourite song during her show Sunday night at the Shaw Conference Centre. Unlikely, but possible.
This multi-faceted performer from England – singer, songwriter, musician and actor – had her first EP released by the esteemed label Polydor in 2009, and her fame and popularity has soared on a seemingly exponential curve ever since. Her full-length debut came one year later, and its title track "Lights" became a hit around the world; "Burn" from a repackaged version of her next album "Halcyon" won over even more fans, and her track with Calvin Harris, "I Need Your Love", amped up the furor even more.
Led by her incredible, emotive voice with a range that few others can manage, Goulding continues to release new singles in 2014, with the sixth single "Goodness Gracious" from "Halcyon", and in addition is featured in the soundtrack to the film "Divergent", with her track "Beating Heart".
Tickets to the show, with opening act Conway, are $51.75.
Thursday 24
Miss Quincy and the Showdown – This blues-rock act out of Nelson, British Columbia has a hefty resume with three albums and a bevy of tours across Canada and Europe. Their newest album was just released, produced by Matt Rogers, whose resume is equally as impressive. Artery, 7:30 pm, $8.
Ninjaspy – This Vancouver band of three brothers combines a lot of genres into their sound, including metal, reggae and ska. Samandriel and Grounded Star also perform on this night. Studio Music Foundation, 8:30 pm, $15.
Friday 25
Harlequin – This weekend's classic rock band of choice performs at the local classic rock venue of record, the Century Casino. The Winnipeg act is probably best known for their 1970s hits "I Did It For Love" and "Innocence" – and now you'll never get them out of your head. 7 pm, $29.95.
Greg MacPherson – This alt-blues-rocker from Winnipeg released his most recent album "Fireball" late last year. Performing since the late 1990's, MacPherson is one of the focal points of the current Southern Manitoba music scene. The Rick Reid Band also performs. Artery, 8 pm, $15.
Russ Dawson – Sonic 102.9 continues its Band of the Month showcases with this breezy local rock-pop act, which was part of the Open Sky music festival in both 2011 and 2012. Pawn Shop, 8 pm, $10.
Dayglo Abortions – This legendary Victoria punk band with the provocative name released their first album in 1981, and have been going strong ever since, though "The Cretin" is the only original member remaining through the act's catalog of some nine albums. Studio Music Foundation, 8:30 pm, $25.
Monday 28
The 1975 – This Manchester band is currently riding a wave of buzz that has catapulted into a North American tour that comes all the way to Edmonton on this night. With only one full-length to their credit, an eponymous effort from September of last year, their song "Chocolate" has become a staple on most alternative and modern rock radio stations across the continent. Starlite Room, 7 pm, $25.